(1958 Rolls-Royce Silver Cloud)
Rolls-Royce – Charles Stewart Rolls and Sir Henry Royce were an unlikely team,
which was cemented over a lunch in May 1904. Royce was the brain behind the
car and Rolls, owner of one of the first car dealerships. Rolls, from aristocratic
parents and a bit of a playboy, was trying to find the most reliable car.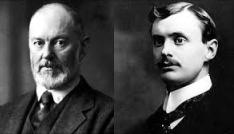 Sir Henry Royce and Charles Stewart Rolls
While both partners were engineers, Royce had some manufacturing experience,
and as he was very dissatisfied with his car, he wanted to build his own car. The
first car he built was a two cylinder, but it was enough to convince Rolls to join
him. They proceeded to build a 2000cc car, of which they only sold 19 by 1906.
A 3000cc model followed and then the 6000cc but sales remained slow. In 1907
they launched the 40/50 HP Silver Ghost with a polished aluminium body an the
7036cc engine, which proved to be their first successful model. This car took part
in a reliability run of 23'000 km and completed it without any problems, which
prompted them to call it "The Best Car in the World".
Between 1922 and 1929 they also produced a more affordable model with a 3127
cc six cylinder engine, of which 2'890 cars were built. At this stage Rolls-Royce
only supplied rolling chassis with engine and radiator. All bodies were then built
by auto bodies builders to customers specifications. This only changed after the
war when Rolls-Royce started to build complete cars, although they were
completely had built in aluminium with body panels formed by hand. Later some
steel pressed panels were also used.
Visit Rolls-Royce