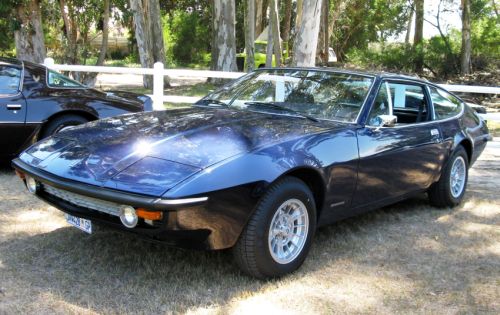 (1974 Bitter)
Erich Bitter, a successful German cyclist, before he changed to racing
cars. He started out racing NSU cars and later changed to Mercedes, Porsche and
Ferraris. After racing cars for eleven years, Erich started to take a serious interest
in tuning cars and selling tuning kits.

Later Erich also started to re-body cars. He believed in German craftsmanship and built
a relationship with Opel to use their floor plans and their mechanical parts. Bitter
then re-designed The Opel Frua CD prototype shown as a concept car at the 1969
Frankfurt Motorshow. With the help of Bauer coachworks in Stuttgart they started
low volume production of the Bitter CD on a modified Opel Diplomat B platform.
They have since become sought after collector's cars. 395 cars were built for the period
1972 to 1979. The car in the above photo is car No10 and the first car produced in 1974 as well as the
earliest production Bitter CD known to exist.