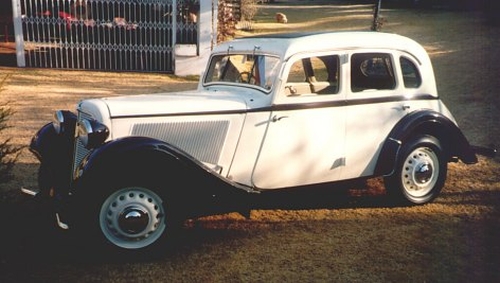 1937 Adler Junior Trumpf
Adler – Heinrich Keyer decided to import bicycles from America in 1880 and
then set up his own factory in Germany. It was a very successful venture with
sales of 100'000 Adler bicycles by 1898. This was followed by a motorcar with
a one cylinder De Dion engine in 1900.
From 1904 Adler fitted their own two and four cylinder engines. Production
was later expanded from the small cars to also include luxury cars with up to
7.5L engines with up to eight different models. What also contributed to their
popularity is that Kaiser Wilhelm ll was regularly seen driving an Adler.
In 1932 Gustav Röhr joined Adler as chief engineer. Röhr who had a very
good reputation, proceeded to design the very successful Trumpf, which had
many advanced features, such as front wheel drive, independent suspension
and adjustable shocks. Initially powered by a 1.5L four cylinder engine,
which was later increased to 1.7L.
The Adler Trumpf was also used as a successful racing car and managed to
do very well in the 24 hour Le Mans race. During the late thirties some
102'000 cars were built in Frankfurt. The production of Adler cars stopped
with the second World War. Adler Cars are very rare in South Africa.