DKW & Auto Union Racing History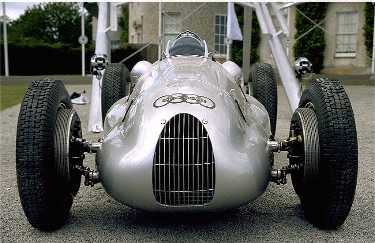 1938 Auto Union D-Type
We express our sincere thanks to Gregor Schulz who's
photographs, taken at the 1999 Goodwood Festival of Speed,
have substantially contributed to the content of this page!
---
Few people realise today, how successful
Auto Union was in dominating Grand
Prix racing during the thirties and how
many World Records, with speeds of up
to 440km/h they held, and how Audi is
continuing this racing tradition
---
Auto Union developed a revolutionary new Grand Prix car, under the
direction of Dr. Ferdinand Porsche, with 12- and 16-cylinder engines
installed behind the driver, with independent suspension and
aerodynamic bodies. These cars dominated car racing and set a host
of world records during the late thirties.
---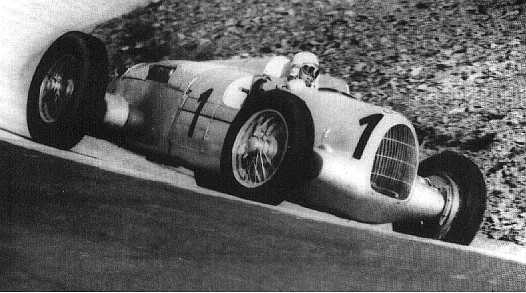 In 1937 Auto Union
amazed the world with these
12- & 16- cylinder Racing Cars
---
Hans Stuck raced the new car to victories at the German, Swiss
and Czech Grand Prix Rosemeyer won his first race in the Masaryk
G.P. in Czechoslovakia finishing six minutes ahead of his next rival.
Rosemeyer would go on to win the German, Pescara, Swiss and
Italian G.P.s, and was crowned the European Champion.
---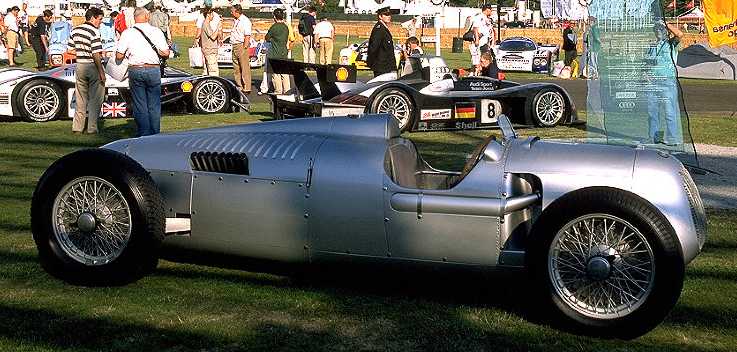 1937 Auto Union Type-C
Photo: Gregor Schulz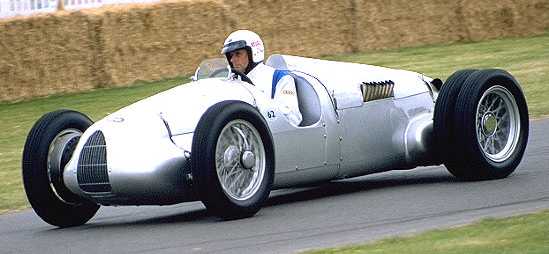 Hans-Joachim Stuck at the wheel of the 1938 Auto Union
Hill Climber, with double wheels
Photo: Gregor Schulz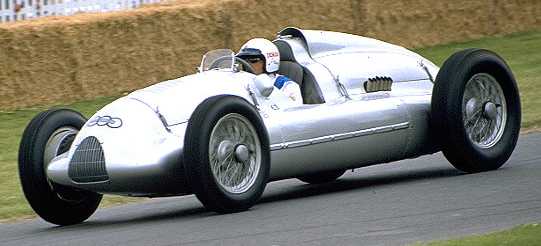 Michele Alboreto at the wheel of the 1939 Auto Union Type D belonging to the Karassik Family
Photo: Gregor Schulz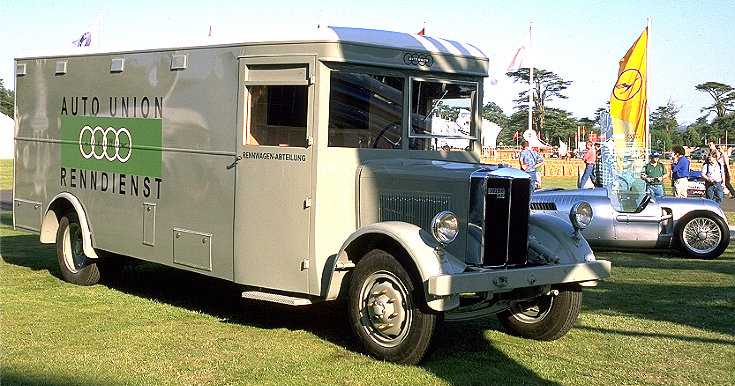 The Auto Union Race Car Transporter (1934 Büssing)
Photo: Gregor Schulz
---
Then Auto Union raced in Britain at the Donington Grand Prix in front
of 50,000 shocked British fans, shocked, because they had never seen
a foreign car humiliate their local heroes like that. Apparently the car
was not easy to handle, because the engine was so powerful, that it
was quite easy to induce wheelspin at speeds in excess of 200km/h.
---
In 1937 these cars were also racing
in South Africa
Extracts from the newspaper reports read as follows: "…on East
London's Prince George Circuit, they flabbergasted spectators
with lap speeds of 115mph and a fantastic 180 mph top speed."
At the Pollsmoor Circuit in Cape Town the following was said:
"Although the great white cars started more than half an hour
behind half the field and had to make several pit stops to change
their synthetic rubber tyres, they took the first two places…."
---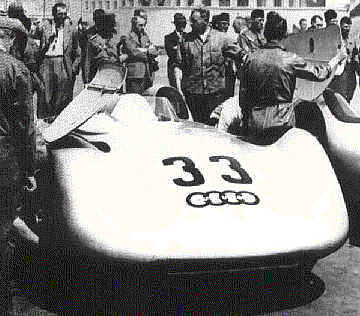 This streamlined version of the Auto Union clinched numerous world speed records
---
The streamlined version of the GP Auto Union, was able to reach
speeds of up to 440km/h. The car held numerous World Records
as from 1937, such as the fastest racing lap of 276Km/h recorded,
the Flying Kilometre of 406Km/h plus many more World Records.
None of the original streamlined Auto Union racing cars survived,
so Audi asked Crosthwait & Gardiner in England to meticulously
re-create an exact replica of this legendary car.
---

he NEW Streamlined Silver
Auto Union V16 Racing Car
Photo: Gregor Schulz
---
At the 1999 Goodwood Festival of speed, Audi showed off this exact
copy of the famous streamlined Auto Union V16 Silver Racing legend.
After successful tests the racing circuit by Audi racing driver Emanuele
Pirro the car is now on display at the DKW/Audi Car Museum
in Ingoldstadt, Germany.
---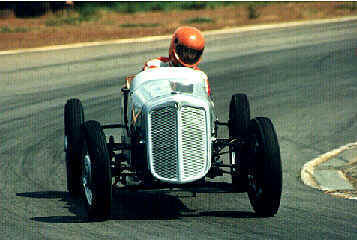 Boet Ferreira's
1937 DKW Racing Special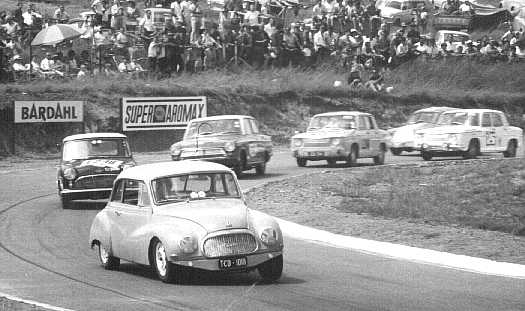 DKW 3=6 in 1965 at Kyalamy
Leader of the Pack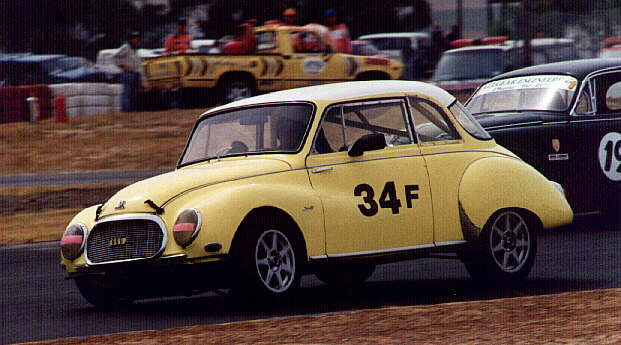 1957 DKW 1000 – F-Class Winner
of the 1998 Racing Season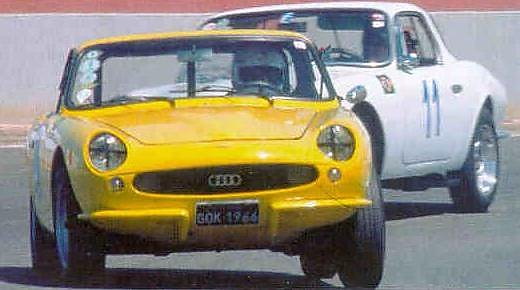 Two DKW Malzonis
fighting it out at Monterrey
---
DKW's were particularly popular and successful racing cars in
Germany, South Africa and South America.
---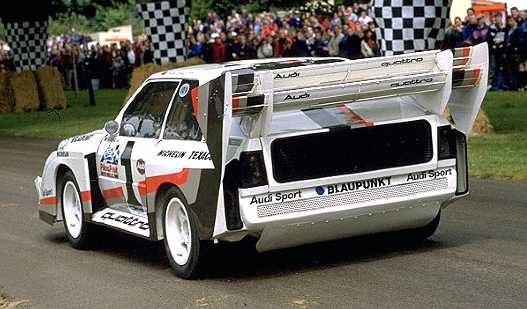 Harald Demuth driving the Audi Pikes Peak-Quattro at Goodwood
Photo: Gregor Schulz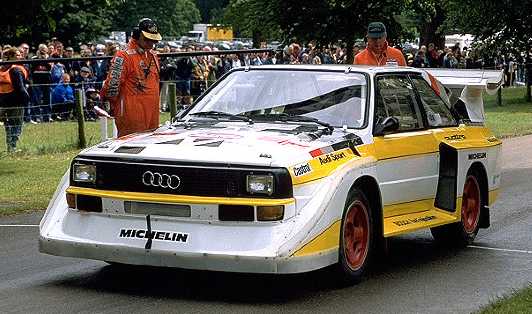 Michele Mouton driving the Audi Sport Quattro S1 at Goodwood
Photo: Gregor Schulz
Emanuele Pirro driving the
Audi R8R at Goodwood
Photo: Gregor Schulz

The new Audi R8C
parked next to the Audi R8R
Photo: Gregor Schulz