DKW Enzmann 500 Spider
---
DKW Enzmann Story

Dr Emil Enzmann, worked on the idea to building his affordable 
and competitive sports roadster as early as 1953. He used the 
Volkswagen chassis and engine, which were easily obtainable.
The car had a glassfibre body, which was a relatively new 
body construction at that time. The Enzmann 506, as it was to 
be named, had many advantages, such as strength, lightweight 
construction and no rust problems. The Enzmann 506 was 
first exhibited during 1956 at the Comptoir Suisse in Lausanne,
Switzerland.
---
---
With some clever tuning and a low weight of some 500kg, the car
achieved respectable performance figures, good enough to give the
Porsche's some tough competition. The car was an instant success,
both on and off the race track. In 1957 the Enzmann 506 (named
after the exhibition stand number 506) was shown in Germany for
the first time at the Frankfurt car show. Actual car production of
this car, which had no doors, started in 1958 at Schlüpfheim near
Lucern, Switzerland.
---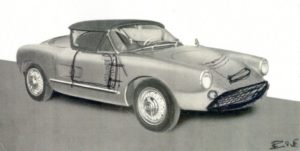 Early Sketch of possible changes to be made for  the DKW Enzmann 500
---
During the early 1960's it became quite problematic to source the 
number of Volkswagen chassis which were required for production, 
as Volkswagen regarded this car a competitor to their Volkswagen 
Karmann, so Dr Enzmann started to look around for an alternative 
platform supplier.
---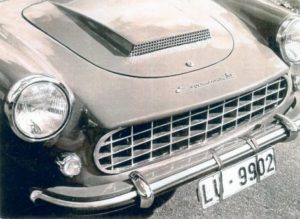 The attractive styling of the 
DKW Enzmann 500 Spider
---
Dr Enzmann settled on the DKW and started to update the body 
design and adapt it for the changes required from rear wheel drive 
with the engine at the back to the DKW configuration of front 
wheel drive with the engine in front. The new model was going to 
be named Enzmann 500 Spider. Although the DKW Enzmann 
500 Spider had similar lines to the Enzmann 506 Spider, it had 
several important improvements, including the two doors and the 
extra emergency seat.
---
---
Karl Enzmann, his son, is once again producing the Enzmann 506 
with the Volkswagen Beetle as a platform, since 2001, with the 
original moulds.
---