DKW, Auto Union & Audi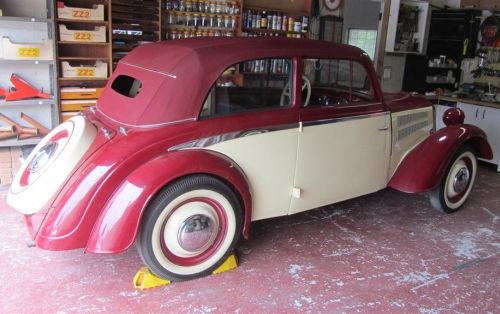 DKW & Auto Union – Jörgen Skafte Rasmussen  –  This Danish born engineer
moved to Germany where he wanted to build a motorcar but fuel was almost
unobtainable at that time, so his first venture was the DKW, or Dampf – Kraft –
Wagen (Steam powered vehicle) in 1916. The steam car was not a success, as it needed
a constant supply of wood and water, which was not very practical. At this time he
became interested in the two stroke engine, which lead to the production of a small
18cc DKW toy engine in 1918, which was named "Des Knaben Wunsch"
(Every Boy's Dream) and became an instant hit. When further developed, it was sold
as an auxiliary engine for bicycles in 1919, marketed as "Das Kleine Wunder" (The
Little Marvel) which was a great success, and was also supplied to some 70 other
manufacturers in Germany. By 1922 more than 30'000 of these units were sold.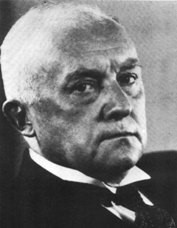 Rasmussen kept on experimenting with cars and during 1920 launched his first battery
powered light car which resulted in orders for 1000 vehicles. Further development of
the two stroke engine lead to a DKW motorcycle in 1921. This was also very well
received with sales of 10'000 during the first year. This venture was so successful that
within five years DKW manufactured 130 engines every day. During 1928 DKW
produced 43'000 motorcycles, which made it the world's largest manufacturer.
The motorcycle engine was constantly upgraded till it had grown into a 584cc two
cylinder version, which was used to power the first DKW rear wheel driven car,
launched in 1927 and displayed as the DKW P-15 at the Berlin Car Show. Even during
the late 1920's DKW cars were used for racing! 1929 a 584cc DKW participated in the
Rally of Monte Carlo and during 1930 two 584cc DKW sports cars set 12 new
international class records.
In 1931 DKW took a pioneering step by adopting front wheel drive, with a transverse
engine. During the mid 1930's the DKW became a best selling people's car. The huge
successes of the DKW racing team was a substantial contributor to DKW's popularity.
While DKW continually expanded during the early 30's and had already absorbed
Audi, in 1932 they also amalgamated with Horch and Wanderer to form Auto Union
and consolidate production during a difficult recessionary period. The combined Auto
Union then developed a revolutionary new Grand Prix car, under the direction of Dr.
Ferdinand Porsche, with 12- and 16-cylinder engines installed behind the driver
(mid engine, a completely new concept), with independent suspension and aerodynamic
bodies. These cars dominated car racing and set a host of world records with speeds of
up to 440km/h during the mid and late thirties.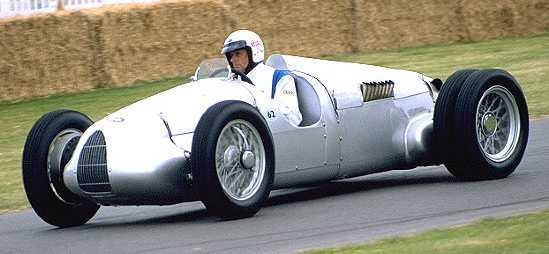 n 1937 these cars were also racing in South Africa. Extracts from the newspaper reports
read as follows: "…on East London's Prince George Circuit, they flabbergasted spectators
with lap speeds of 185km/h and a fantastic 290km/h top speed." At the Pollsmoor Circuit
in Cape Town the following was said: "Although the great white cars started more than
half an hour behind the field and had to make several pit stops to change their synthetic
---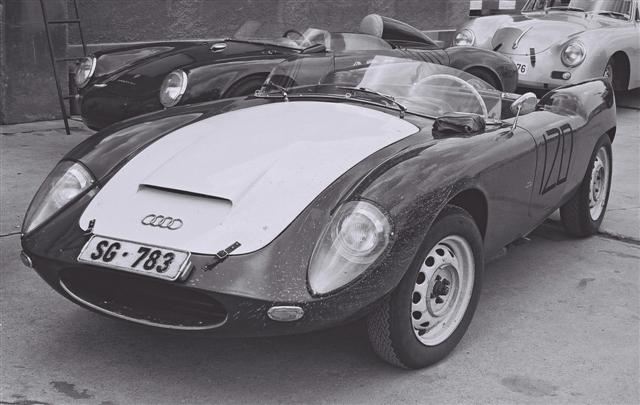 DKW-Sauter 
Kurt Sauter was very successful building DKW Sports & Race Cars in Switzerland
and also racing them from 1948 to 1953 with great success at Nürnburgring, Avus, Bern , Maloya and many others.
---
DKW Salvages Mercedes Benz


You can always rely on a DKW!
This DKW was recently observed coming to the rescue of
a Mercedes Benz in the Northern Suburbs of Cape Town!!
---
NEW V-6 2-stroke DKW Engine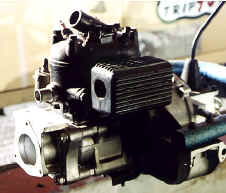 Did you know that a 2-stroke V-6 engine was developed for
additional power in 1960 by combining two 3-cylinder engines.
DKW & Auto Union Specifications
---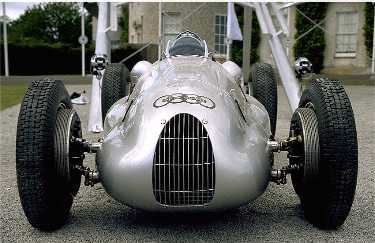 Did you know that in 1937 these cars
were also racing in South Africa?
DKW & Auto Union Racing History
---
Audi Racing Team from Europe in SA

Did you know that the Audi Racing Team arrived in South Africa on
27th January 1997 with European Saloon car Racing Champion
Emanuele Pirro for extensive testing and preparation of their new
Audi A4 Supertouring front wheel drive car at Kyalami, Johannesburg,
as the Audi four wheel drive car was no longer permitted to participate
in all the big European races.
---
Audi Shows off Auto Union's V16 Racing Legend

At the 1999 Goodwood Festival of speed, Audi showed off an exact
copy of the famous AVUS Auto Union V16 Silver Racing legend, which
was meticiously re-created by Crosthwait & Gardiner in England.
This streamlined version of the famous Auto Union racing cars held
numerous World Records in 1937, among which was the fastest racing
lap of 276Km/h, the Flying Kilometer of 406Km/h.

After successful tests on the racing circuit by Audi racing driver
Emanuele Pirro the car is now on display at the DKW/Audi Car
Museum in Ingoldstadt, Germany.
---
Audi funds Zwickau Auto Museum

Ingolstadt, Germany, April 24 (Bloomberg) -- Audi AG, the luxury car
unit of Volkswagen AG, gave 13 million marks ($7.1 million) to the
eastern German city of Zwickau to found an automotive museum, the
German daily Die Welt reported. The city was once home to several
German car and car parts suppliers, including Horch, DKW and
Wanderer, which were eventually merged into Auto Union, Audi's
predecessor. The investment comes on the 100th anniversary of the
first Horch automobile, Audi's 90th birthday and the 50th anniversary
of Audi's relocation to Ingolstadt from Zwickau, the paper reported.
---
DKW & Auto Union Links in South Africa

Contact: Auto Union Club of South Africa
Contact: DKW Owners Club of South Africa
---
International DKW,
Auto Union & Audi Links

Please note that while we are providing the links on our WebPages
for your convenience, we take no responsibility for the content
thereof, as we have no influence over these linked pages.
---
DKW in Argentinia  <>  DKW Club of Sweden
KW Owners Club UK  <>  Belgium DKW Club

---