DKW & Auto Union History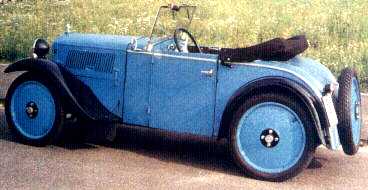 1931 DKW F-1 600cc
This car is one of the pioneers of front wheel drive,
which has continued to be used to this day by Audi.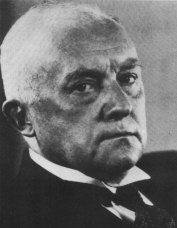 Jörgen Skafte
Rasmussen
Danish engineer Jörgen Skafte Rasmussen was the originator of the
DKW, derived from Dampf – Kraft – Wagen (Steam powered
vehicle), since Rasmussen's first design was a light steam car,
produced in 1916.
---
Rasmussen's DKW engine, which went into production as a
motorcycle engine in 1919 in Zschopau, Germany, was a
very important development. By the 1930's DKW was the
world's largest motorcycle manufacturer.
---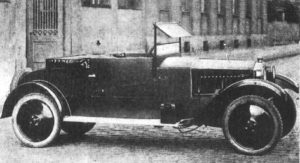 The 1927/28 DKW P-15
with rear wheel drive and
a 500cc engine
---
In 1928 the engine was upgraded to power the first DKW car.
The same engine design was later adapted to power SAAB
motorcars and the Trabant in East Germany, where it continued to
be manufactured up to the early 1990's, more than 70 years later.
---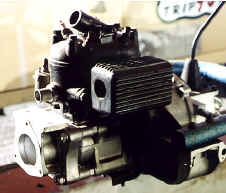 The 1929 2-stroke, 2-cylinder, 500cc Engine used in the early DKW cars
---
A two-stroke petrol engine was developed by DKW in 1919
as a toy model engine, however the popularity of this engine
saw it evolve into a motorcycle engine and then into a car engine.
In 1928 a 500cc two cylinder version was used in DKW's
first rear wheel driven car.
---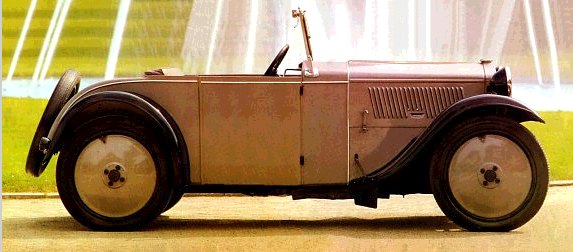 The 1931 DKW F-2 600cc
---
Even during the late 1920's DKW cars were used for racing! 1929
a 600cc DKW participated in the Rally of Monte Carlo and during
1930 two 500cc DKW sports cars set 12 new international class
records.
---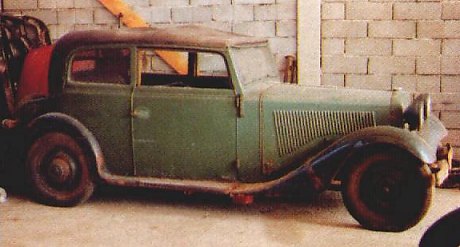 1934 DKW 1001 Sonderklasse Cabrio-Limousine
---
Even though this 1934 DKW 1001 Sonderklasse Cabrio-Limousine
is in desperate need of restoration, it nevertheless gives a good
indication of what this period DKW's looked like.
---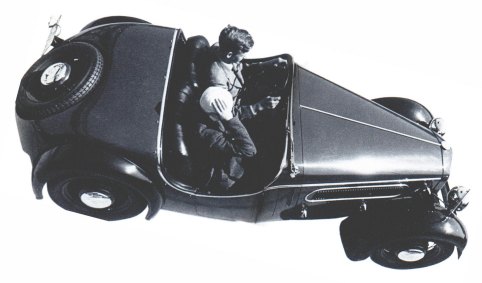 The DKW F5 Sports Roadster
---
From 1935 to 1937 this smart looking Sports Roadster attracted lots
of attention for DKW.
---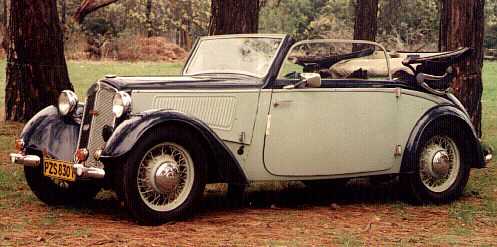 This type of car was built in 1937 with a 2-stroke, 2-cylinder,
600cc Engine
---
In 1931 DKW took a pioneering step by adopting front wheel
drive, which Audi continues to use up-to today. During the mid
1930's the DKW became a best selling people's car. The
phenomenal successes of the DKW racing team was a substantial
contributor this it's popularity.
---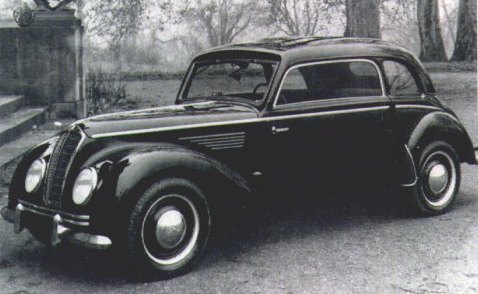 The 1950 DKW Bauer F-10 Limousine. was offered with the 2-cylinder, 600cc Engine
---
In the late 1940's DKW wanted to re-launch the DKW, to keep their
dealer happy, but had no suitable successor to the pre-war model.
While they worked on a replacement, as an interim measure, they
allowed Bauer to build their new Bauer bodies on the pre-war chassis
which they supplied to them with a few minor improvements. The
DKW Bauer F-10 Limousine first went on sale during 1950.
---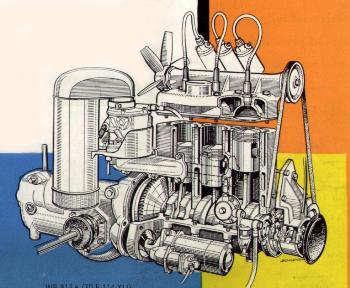 The new 2-stroke, 3-cylinder,
900cc Engine used in 1953
---
A three cylinder version
of their engine was developed in 1940, but only went into
production, with the launch in March 1953 of the new DKW-
Sonderklasse Typ F-91.
---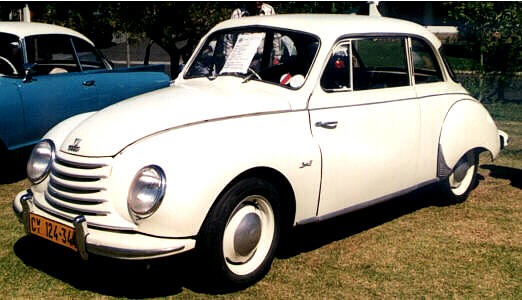 This DKW 3=6 first used
the 900cc Engine in 1953
---
While DKW expanded during the early 30's and had already absorbed
Audi, in 1932 they also amalgamated with Horch and Wanderer to
form Auto Union and consolidate production during a difficult
recessionary period. The combined Auto Union then developed a
revolutionary new Grand Prix car, under the direction of Dr.
Ferdinand Porsche, with 12- and 16-cylinder engines installed behind
the driver, with independent suspension and aerodynamic bodies.
These cars dominated car racing and set a host of world records
during the late thirties
---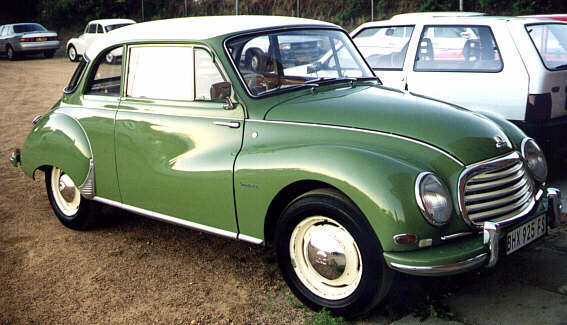 During 1956 Auto Union
released the updated
DKW 3=6 (note the new grill)
---
During 1956 Auto Union introduced the F-93 with a wider body and
updated both the interior and exterior of the car.
---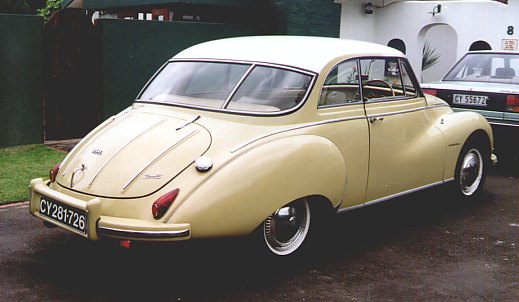 During 1958 Auto Union
released the new wider bodied DKW 1000 (also has a new grill)
---
During 1958 Auto Union changed away from the "suicide doors"
on the two door models only. This model can also be recognised
by the new grill.
---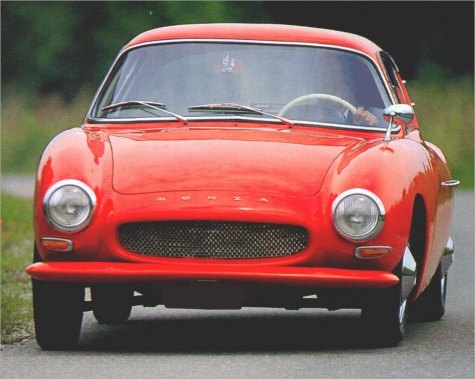 The DKW Monza
established five international records during the late 1950's
---
During the late 1950's the DKW Monza established five international
records on the Monza race track in Italy. The Monza was a privately
developed in Germany, based on DKW mechanicals and a glassfibre
body.
---
During 1958
Auto Union released the new
1000SP Coupé
---
During 1958 Auto Union released the new and sporty looking Auto
Union 1000SP Coupé' which made headlines with it's wings and
slight resemblance to the Ford Thunderbird. The car was actually
designed to appeal to the American market.
---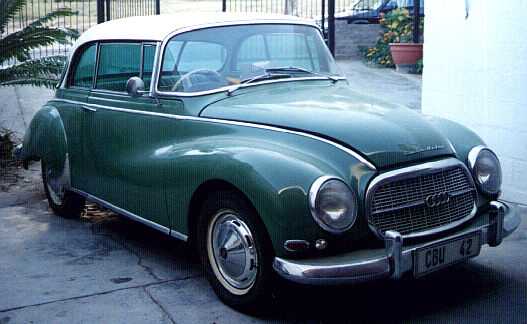 During 1959 Auto Union
released the new DKW 1000-S
(Wrap around Windscreen)
---
During 1959 Auto Union introduced a revised car, with a wrap
around windscreen, which was fashionable at that time.
---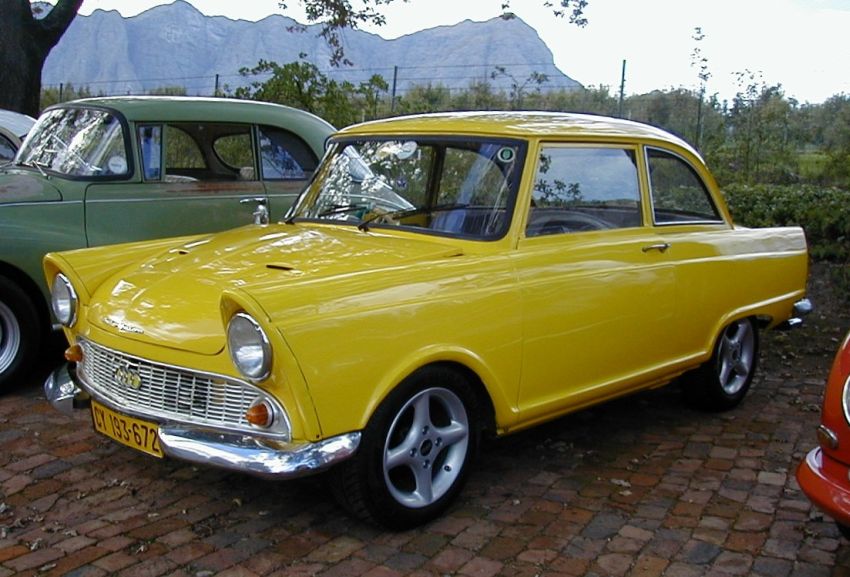 1960 DKW Junior
---
During 1959 Auto Union introduced the DKW Junior F11, a small,
fast and economical car with a three cylinder 750cc engine with 34PS
and 12″ wheels.
---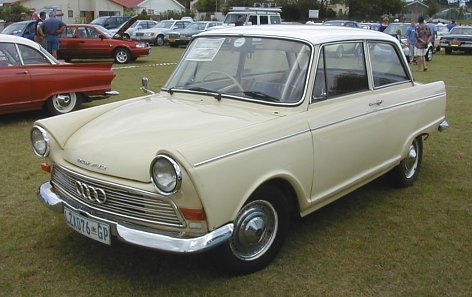 1964 DKW F-12
---
During 1963 Auto Union introduced the DKW F12/60, with a larger
three cylinder 900cc engine with 40PS and larger 13″ wheels.
---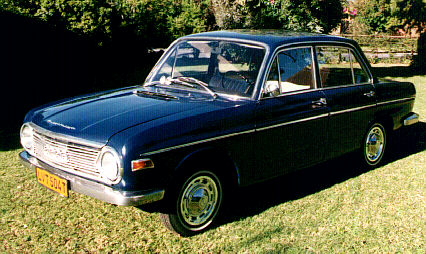 During 1964 Auto Union
released the new DKW F-102
---
During 1964 Auto Union Germany introduced a new car with a
completely new two door body style plus a larger 1200cc engine,
although the experts were convinced that a technical limit had been
reached and that a successful two stroke engine larger than 1000cc
could not be built. The four door model appeared only during 1965.
---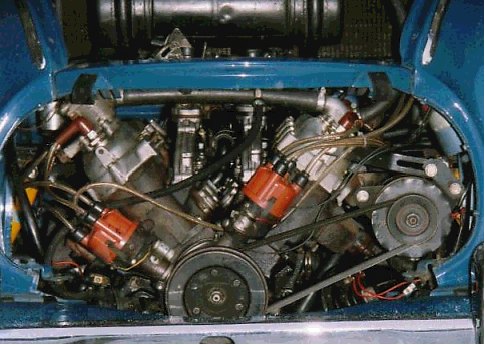 The new 2-stroke
V-6, 1300cc Engine
Photo: Martin Hesse
---
A 1000cc 2-stroke V-6 engine was developed for additional
power in 1960 by combining two 3-cylinder engines. The
capacity was gradually increased to 1300cc and the last V-6
engines were built in 1966.
While the standard configuration was with two carburettors which
produced 83 HP, a four carburettor version was also built and
tested which produced 100 HP and a six carburettor version
produced 130 HP with the 1300cc capacity. However, most
of the engines were fitted with two carburettors
Approximately 100 V-6 engines were built for testing in DKW
cars. 13 DKW F-102 were fitted with the V-6 engine in the
sixties. At least one F-102 with the V-6 engine and two Auto
Union 1000SP's which belonged to Mr Muller have survived to
this day. A number of Munga's were also fitted with the V-6
engine at the factory in Ingoldstadt, as the German army
expressed a keen interest in the more powerful engine.
However, with the premature death of Muller and the take-over
of Auto Union by Volkswagen, the project was abandoned in
favour of a new four stroke engine which had been developed
by Mercedes.
---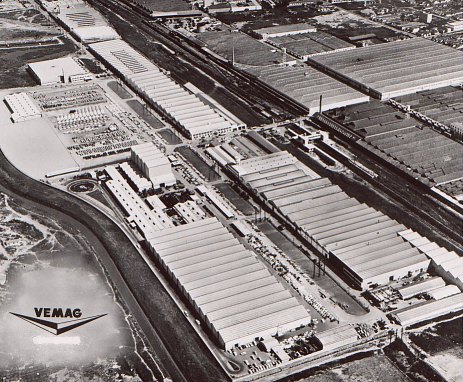 VEMAG DKW
Factory in Brazil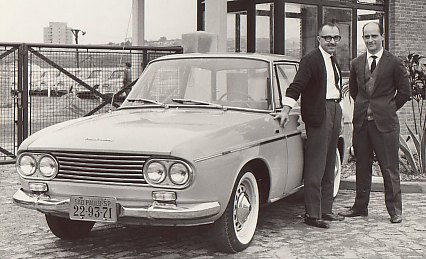 This was the first
DKW Fissore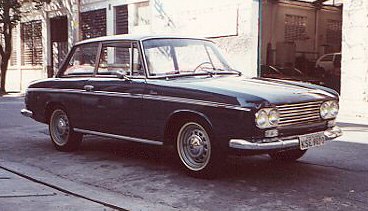 1965 DKW Fissore
---
DKW's were not only very popular in Europe and Southern Africa,
but also in South America, where a number of special models
were manufactured in Brazil. VEMAG produced around 130000
DKW's under licence from November 1956 to December 1967 in
Brazil. They produced a four door sedan named Belcar (which
means beautiful car), a universal station wagon named Vemaguet
(which means small Deke), the Munga named Candango and the
Fissore. Jorge Lettry, the legendary DKW racing team boss in Brazil
managed to coax 106 HP out of the 1000cc DKW engine. He then
proceeded to construct the Carcara, the DKW which was used to
establish the South American speed record for 1000cc engined cars
with 212 Km/h.
---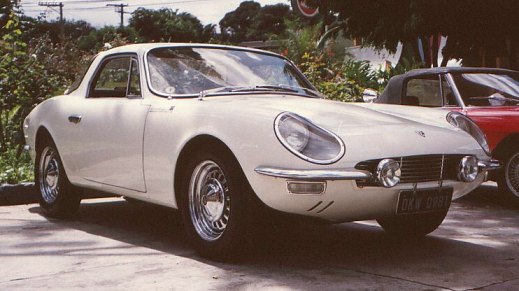 1967 DKW Puma
by Puma, Brazil
---
The Malzonis and Pumas were also produced in Brazil, but in another
factory, first named Lumimari and then renamed to Puma. Both with full
DKW mechanical parts and fibreglass bodies.
---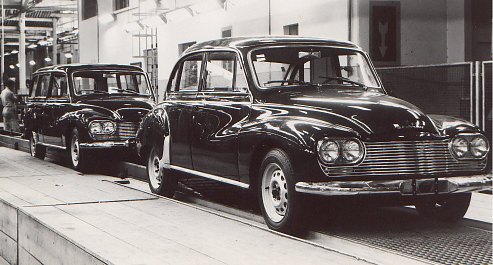 The last two DKW on the
VEMAG assembly line in 1967
---
These are the last two cars produced in 1967 at the VEMAG factory
in Brazil. Note the unusual front styling on the four door sedan which
also had four forward opening doors, compared to all other four door
models produced elsewhere which where fitted with two "suicide"
doors in front.
---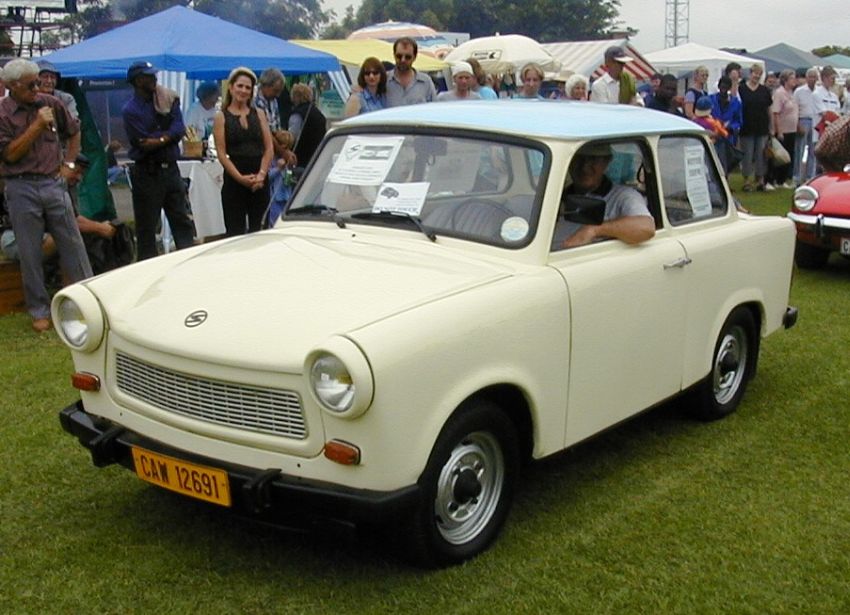 The Trabant in East Germany
continued to use the DKW pre-
war engine to the early 1990's
---
After the war, the East German Trabant continued to use the pre-
war two cylinder version of the DKW engine, largely unchanged
up to the early 1990's, when the German unification brought
production to a halt.