DKW & Auto Union Specifications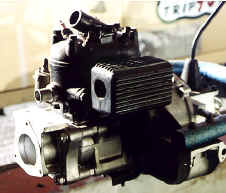 Early (1929) two cylinder DKW rear wheel drive
Rasmussens DKW engine was a simple, but effective
design, with very few moving parts, which powered his
motorcycles from 1919. By 1929 DKW was the world's
largest motorcycle manufacturer. The same basic engine
design was adapted for the DKW and Auto Union cars
and later also for SAAB and Trabant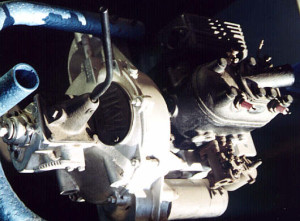 The first 1927 DKW car engine,
which is the 2-stroke 2-cylinder 500cc unit for the F1
rear wheel drive car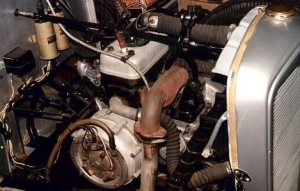 The 2-stroke 2-cylinder 690cc F-7 Engine of Boet Ferreira's
1937 DKW Racing Special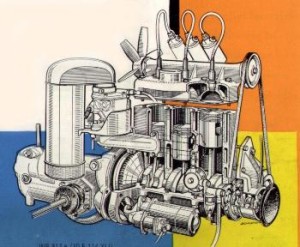 The 2-stroke 3-cylinder
900cc DKW Engine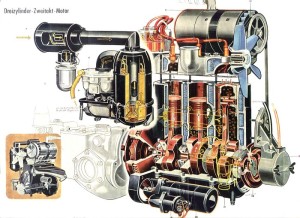 The 2-stroke 3-cylinder
1000cc DKW Engine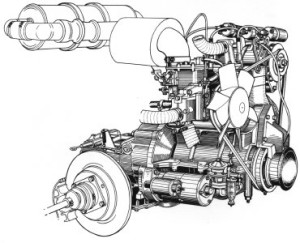 The 2-stroke 3-cylinder
1200cc Engine
of the DKW F-102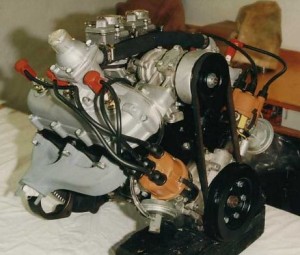 The 2-stroke
V-6, 1300cc Engine
Photo: Martin Hesse
A 1000cc 2-stroke V-6 engine was developed for additional
power in 1960 by combining two 3-cylinder engines. The capacity
was gradually increased to 1300cc and the last V-6 engines were
built in 1966.
The 1300cc version actually had a capacity of 1280cc with
a 62.5mm bore and 70mm stroke. The engine developed
83 HP at 5000rpm and had a compression ratio of 9,5 : 1 with
maximum torque of 15,4kg/m at 3400rpm.
While the standard configuration was with two carburettors which
produced 83 HP, a four carburettor version was also built and
tested which produced 100 HP and a six carburettor version
produced 130 HP with the 1300cc capacity. However, most
of the engines were fitted with two carburettors
The engine was very light and weighed only 84kg. An Engineer
by the name of Muller was the driving force behind this engine,
which was supposed to be used in the Munga and the F-102.
Approximately 100 V-6 engines were built for testing in DKW
cars. 13 DKW F-102 were fitted with the V-6 engine in the
sixties. At least one F-102 with the V-6 engine and two Auto
Union 1000SP's which belonged to Mr Muller have survived to
this day. A number of Munga's were also fitted with the V-6
engine at the factory in Ingoldstadt, as the German army
expressed a keen interest in the more powerful engine.
Mr Martin Hesse (a specialist DKW cars and parts dealer in
Germany) bought his first V-6 engine in 1977 and fitted it to a
DKW 1000 S. According to him the engine was very powerful with
100 HP. Top speed was a respectable 170 Km/h and 0-100 Km/h
was achieved in 12 sec.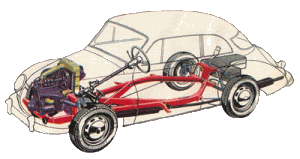 DKW Chassis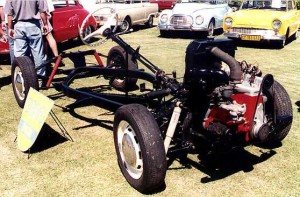 1958 DKW 1000
Chassis during restoration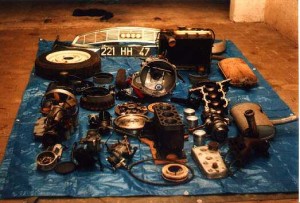 1965 Junior Deluxe
Parts during restoration
Photo: Philipe Sauvestre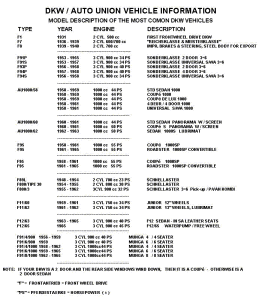 DKW
Vehicle Information